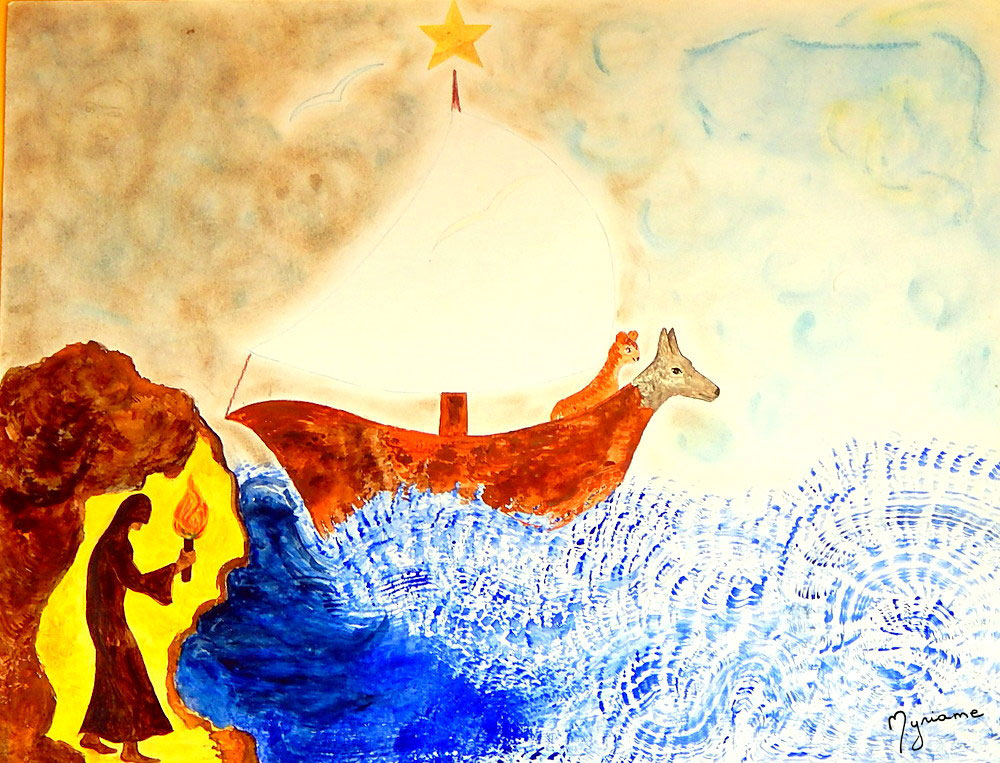 Illness
A sailing boat with a star shining on the top of the mast.
On the prow, the head of a wolf and another animal which I cannot identify.
On the left, the sky is dark. We can see the kind face of a man among the clouds. In a grotto, a monk holding a torch accompanies the travel of the boat.
On the right, the sky is less gloomy but there is still a whirlpool.
I made this painting at the end of a sickness.
I had been sick, very sick. I could hardly breath and I was losing my memory. The Angel of Death caressed me with His wing. I asked myself many times: should I prepare myself to die or should I fight for Life?
I spoke directly to the Creator. I shouted to Him: "I WANT TO LIVE".
He heard me. He saved me.
For thanking Him, I wrote a prayer:
In the silence of my heart, I go to Thee
In the silence of my heart, I claim to Thee
Father
Harmonize my soul with the beat of the Universe
Inspire me the love of life and open my eyes for discovering Its splendor
Help us to awaken Your Divine Presence in each cell of our body
Give us the courage to welcome the blazing Fire of Your Love so that we can make it radiate around us.
A disease is an incandescent night.
Whether we experiment it as a curse or an initiation, it conceals a treasure: the possibility to discover what our soul expects from us.